Waste tire rubber powder prod...
waste rubber recycling and pro...
Add:Western road Industrial clusters ChangJiang Town JiangYin city JiangSu province
Tel:0086-510-86338003 Fax:0086-510-86003117
Contact:Mr.Gu Hong Moblie:0086-013601516395
E-mail:sales@nezs.cn
Web site:http://www.luntaijixie.com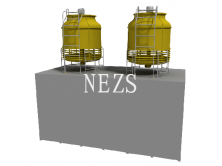 LQT Cooling System
Introduction
LQT cooling system utilizes the water evaporation principle to cool down the water which is heated by the machines during operation. Connect it with each machine抯 internal cooling systems to make the whole line working steadily, efficiently and safely. It mainly consist of water tank, cooling tower, high pressure pump, water out pipe, feedback pipe and ladder, etc.
Structure and Principle
◆The water tank is made of stainless steel with ladder to avoid rusting and water leakage, high volume storage, compact structure and quick cooling;
◆High pressure twin water pump, long circulating distance, high pressure and low noise
◆The system uses circulating water flow, no pollution and water saving;
◆The cooling tower adopts round reverse-flow principle, quick evaporation, small size, low noise.
| | | |
| --- | --- | --- |
| Model | 20 | 50 |
| Capacity (t / h) | 30 | 30 +30 |
| Storage capacity (tonnes) | 20 | 50 |
| Matching models (kg / h) | 500 to 1000 | 1000 to 2000 |
| Motor Power (kW) | 5.5 +1.1 | 5.5 +5.5 +1.1 +1.1 |
| Weight (tons) | 1.4 | 2.2 |