Waste tire rubber powder prod...
waste rubber recycling and pro...
Add:Western road Industrial clusters ChangJiang Town JiangYin city JiangSu province
Tel:0086-510-86338003 Fax:0086-510-86003117
Contact:Mr.Gu Hong Moblie:0086-013601516395
E-mail:sales@nezs.cn
Web site:http://www.luntaijixie.com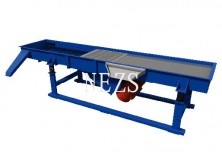 JFS Rubber Powder Screener
Introduction
This machine use vibrating motor to force the materials disperse, move forward on the screening net to separate rubber granules into different sizes, while other relevant machines can separate the steel wire and fiber above the screen net. It mainly consists of vibrating motor, screener frame, spring, steel wire discharging tray, feeding back outlet and screening net,etc.
Structure and Principle
◆Using vibrating motor as vibrating source, reliable and easy operation;
◆Used as a platform for multiple jobs as rubber granule screening, fiber separating, steel wire separating processes, wide applications, high efficient and small floor area.
◆High screening accuracy, high screening volume, compact structure;
◆With multiple outlets for different screening sizes, is an indispensible equipment in tire recycling.
| | |
| --- | --- |
| Model | 800 |
| Handling capacity (kg / h) | 400 to 800 |
| Vibration frequency (beats / min) | 960 |
| Motor Power (kW) | 0.75 +0.75 |
| Size of outputting feed (mm) | 0.5 to 6 |
| Sorting efficiency% | 99 |
| Weight (tons) | 0.8 |