Waste tire rubber powder prod...
waste rubber recycling and pro...
Add:Western road Industrial clusters ChangJiang Town JiangYin city JiangSu province
Tel:0086-510-86338003 Fax:0086-510-86003117
Contact:Mr.Gu Hong Moblie:0086-013601516395
E-mail:sales@nezs.cn
Web site:http://www.luntaijixie.com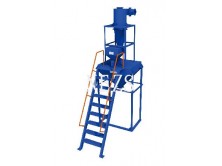 HLC Additive Mixing Tank
Introduction
HLC Additive Mixing Tank is used to store the pure rubber granule from the processes before and meantime, mix lubricating powder additives into them so the rubber granules can be milled at finer size at ease and extend the life of milling discs. It is mainly composed of Airblow Conveyor, Tunnel Pipe, Cyclone, Motor, Mixing Barrel, Screw Feeder, Storage Tank, etc.
Structure and Principle
◆Mix additives with rubber granule by air dispersing principle, high volume and homogeneous;
◆With stirring device inside the tank to avoid materials jamming, compact structure and easy maintenance;
◆The tanks have automatic level indicator to check the materials level automatically to control the additives quantity at high accuracy;
◆The additive screw feeder is controlled by PLC and can adjust the feeding volume automatically, so the additives can be added in high accuracy and well mixed with the rubber granule.
| | |
| --- | --- |
| Model | 1000 |
| Handling capacity (kg / h) | 400-1000 |
| Storage volume (liters) | 1000 |
| Additive capacity (liters) | 100 |
| Motor Power (kW) | 5.5 +0.12 |
| Mixed% | 99 |
| Weight (tons) | 1.2 |