Waste tire rubber powder prod...
waste rubber recycling and pro...
Add:Western road Industrial clusters ChangJiang Town JiangYin city JiangSu province
Tel:0086-510-86338003 Fax:0086-510-86003117
Contact:Mr.Gu Hong Moblie:0086-013601516395
E-mail:sales@nezs.cn
Web site:http://www.luntaijixie.com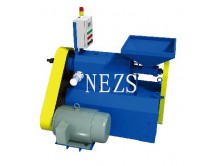 CXFJ Rubber Fine Miller
Introduction
The CXFJ Rubber Power Fine Miller is used to mill 2-6mm pure rubber granule into rubber powder from 40-200mesh in ambient process. It mainly consists of milling motor, frequency conversion feeder, Motor adjusting device, feeding hopper, fixed and rotary milling discs, machine frame, main shaft, collecting pipe, circulating water cooling system.
Structure and Principle
◆The machine use tungsten carbide as the milling surface of the milling disc, the milling disc base is made of special treated materials. Crashing-proof, wearable, durable and good ductility;
◆The whole machine adopts horizontal structure. Most parts are CNC processed to ensure the installation accuracy. Compact structure, low power and vibration, easy operation and maintenance;
◆The feeding system adopts ultra-red monitor controlled by PLC to maximum the output. The clearance between fixed and rotary discs are also controlled by PLC motors, which has greatly improved the quality and fineness of the rubber powder;
◆Internal circulating water cooling system can ensure ideal temperature for the milling discs during production, the rubber powder will not get burned or sticky.
| | |
| --- | --- |
| Model | 28 |
| Handling capacity (kg / h) | 60 to 160 |
| Spindle speed (rev / min) | 860 |
| Motor Power (kW) | 30 +0.75 +0.06 |
| Feed size (mm) | 2-6 |
| Material particle size (mesh) | 40 to 200 |
| Weight (tons) | 1.2 |