Waste tire rubber powder prod...
waste rubber recycling and pro...
Add:Western road Industrial clusters ChangJiang Town JiangYin city JiangSu province
Tel:0086-510-86338003 Fax:0086-510-86003117
Contact:Mr.Gu Hong Moblie:0086-013601516395
E-mail:sales@nezs.cn
Web site:http://www.luntaijixie.com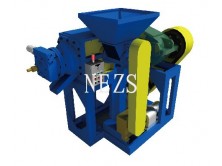 CQJ Rubber Chip Grinder
Introduction
The CQJ Rubber Chip Grinder is used to coarse/fine grind various kinds of shredded rubber chips in ambient process and it will also detach the steel wire and fiber with the rubber during grinding. The machine is composed of motor, speed reducer, grinding cone, grinding sleeve, grinding spiral shaft, feeder, cooling system and machine frame, etc.
Structure and Principle
◆The machine adopts rotary grinding and cutting principle with 360 degree large working surface, compact structure, high efficient and durable;
◆The machine is of folio compact structure for easy installation and maintenance. The grinding spiral shaft inside the grinding cone is controlled by PLC, it can adjust the grinding size automatically to produce required size of rubber granules and meantime, completely detach rubber, steel wire and nylon;
◆The main working parts of the machine are made of imported hard alloy materials after special hardness and wear treatments, the wearing parts are designed as replaceable, so the wearing parts repairing and changing jobs are made very easy, quick and not costly any more. Durable, high efficient, easy replacement and advanced technology;
◆The feeding hopper adopts direct discharging structure with stirring device at the bottom to avoid materials jamming.
◆The machine body and spiral shaft are cooled with circulating water to ensure suitable working temperature.
| | |
| --- | --- |
| Model | 320 |
| Handling capacity (kg / h) | 200 to 600 |
| Diameter (mm) | Φ320 |
| Feed size (mm) | ≤ 50 × 80 |
| Specifications of the material (mm) | ≤ 2 to 8 |
| Motor Power (kW) | 45 + 0.75 |
| Spindle speed (rev / min) | 32 |
| Weight (tons) | 4.5 |