Waste tire rubber powder prod...
waste rubber recycling and pro...
Add:Western road Industrial clusters ChangJiang Town JiangYin city JiangSu province
Tel:0086-510-86338003 Fax:0086-510-86003117
Contact:Mr.Gu Hong Moblie:0086-013601516395
E-mail:sales@nezs.cn
Web site:http://www.luntaijixie.com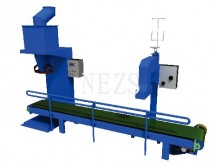 LCS Auto Packing Machine
Introduction
LCS Auto Packing Machine is used to automatically weigh and fill rubber powder and then seals the package. It is designed especially for the rubber powder in consideration of its flowability, bulk density. The machine mainly consists of frequency conversion motor, screw feeder, feeding hopper, weighing device, conveyor, sealing device, sensor and control device, etc.
Structure and Principle
◆Adopting frequency speed changing, electrically weighing and counting technology. Feeding volume PLC controlled, high automation, quick packing speed, accurate weighing and counting, no air pollution features;
◆Package clamping and holding system, vibrating discharging, pneumatic working parts, PLC Controlling;
◆Belt conveying, automatic sensor sealing to save labor force and speed up packing process;
◆Ultra-red feeding level sensor inside the feeding hopper, stirring device to avoid rubber powder jamming ensure packing accuracy and speed.
| | |
| --- | --- |
| Model | 50 |
| Packaged Weight (kg) | 10 to 50 |
| Packaging accuracy (kg) | ± 0.02 |
| Packaging speed (bag / min) | 3 to 10 (25 kg) |
| Motor Power (kW) | +0.55 +0.55 |
| Supply Pressure (kg) | 6 |
| Weight (tons) | 1.1 |