Waste tire rubber powder prod...
waste rubber recycling and pro...
Add:Western road Industrial clusters ChangJiang Town JiangYin city JiangSu province
Tel:0086-510-86338003 Fax:0086-510-86003117
Contact:Mr.Gu Hong Moblie:0086-013601516395
E-mail:sales@nezs.cn
Web site:http://www.luntaijixie.com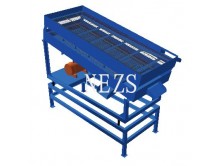 FS Swing Screener
Introduction
The machine is used for rubber granule screening, with compact structure, small size, no pollution, low noise, easy moving. It mainly consist of vibrating motor, machine body, screen frame, springs and outlets, etc.
Structure and principle
The machine is composed of screen cabinet, vibrating motor and vibrating system. The vibrating system is connected with the screen cabinet. The vibrating motor will drive the screen cabinet swing back and forth to screen 3 different sizes of materials at a time.
| | | |
| --- | --- | --- |
| Model | 60 | 80 |
| Production capacity (kg / h) | 50 to 500 | 80 to 800 |
| Sifting mesh (mesh) | 5 to 40 | 5 to 40 |
| Motor Power (kW) | 0.55 | 0.75 |
| Exports (unit) | 2 to 3 | 2 to 3 |
| Weight (tons) | 0.15 | 0.22 |