Waste tire rubber powder prod...
waste rubber recycling and pro...
Add:Western road Industrial clusters ChangJiang Town JiangYin city JiangSu province
Tel:0086-510-86338003 Fax:0086-510-86003117
Contact:Mr.Gu Hong Moblie:0086-013601516395
E-mail:sales@nezs.cn
Web site:http://www.luntaijixie.com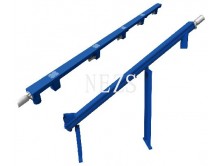 LS Screw Conveyor
Introduction
LS Screw Conveyor is used to connect different machines in the line, or to split feed for multiple machines, it is specially designed for rubber granule and powder conveying. The machine mainly consist motor, speed reducer, conveying tunnel, screw shaft, hopper, machine frame, view window, splitting motor, splitting valve and discharging outlet, etc.
Structure and Principle
◆Enclosed structure with view window to monitor at any time. Compact structure, big conveying volume, easy installation and movement, no air pollution;
◆Use cycloidal pin gear reducer, low noise, high efficient, compact structure
◆Can convey in both horizontal or sideling directions;
◆All the splitting motors are switched on and off by the PLC system, it can convey materials evenly and accurately into the machines and ensure the whole line抯 stability, safety and high efficiency.
Model

36

44

70

Transmission capacity (kg / h)

200 to 800

Belt Length (m)

3 to 8

Screw speed (rev / min)

60

Motor Power (kW)

1.1 to 1.5

Weight (tons)

0.15 to 0.6