Waste tire rubber powder prod...
waste rubber recycling and pro...
Add:Western road Industrial clusters ChangJiang Town JiangYin city JiangSu province
Tel:0086-510-86338003 Fax:0086-510-86003117
Contact:Mr.Gu Hong Moblie:0086-013601516395
E-mail:sales@nezs.cn
Web site:http://www.luntaijixie.com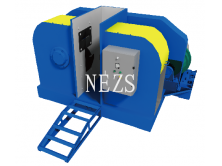 SG Double Hook Debeader
Introduction
SG Double Hook Debeader is used to pull out bead wires inside two tire sidewalls completely and simultaneously before next cutting and shredding process. It mainly consists of motor, speed reducer, transmission gears, round hooks, cross-hole plate, support boards, pedestal, bearing pedestal, rolling shelf and control cabinet.
Structure and Principle
◆The machine use integral base pedestal, easy installation and operation, it is the most efficient debeader in the current market;
◆Adopts twin motor and twin hook design to pull out bead wires at 3 times the speed of the single hook debeader;
◆Mechanical transmission and round hook design, high efficient and small occupation area;
◆Circuit protection system, safety protection frame to make the operation easy and safe;
◆Round hook,cross hole plate and gears are made of materials after special treatment, wearable, heavy-duty, easy maintenance and long life.
| | |
| --- | --- |
| Model | 1200 |
| Capacity(Pcs/H) | 60~120 |
| Handling tire(mm) | ≤Φ1200 |
| Motor power(Kw) | 7.5+7.5 |
| Working pressure(MPa) | 15+15 |
| Weight(T) | 6.5 |