Waste tire rubber powder prod...
waste rubber recycling and pro...
Add:Western road Industrial clusters ChangJiang Town JiangYin city JiangSu province
Tel:0086-510-86338003 Fax:0086-510-86003117
Contact:Mr.Gu Hong Moblie:0086-013601516395
E-mail:sales@nezs.cn
Web site:http://www.luntaijixie.com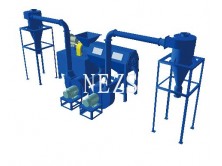 SXS Double Cylinder Centrifugal Screener
Introduction
Rubber is elastic and easy to jam, stick and heat during screening process. We redeveloped the double cylinder centrifugal screener to solve those problems. It mainly consist of motor, turbine fan, screener body, screen frame, draught fan, cyclone, etc.
Structure and principle
Materials are fed into the screening chamber via screw feeder, under the centrifugal force generated by the rotating impeller, the fine rubber powder are shrew through the screen holes and collected and discharged by the cyclone, while the coarse powder will continue its way into second chamber to be screened and finally the most coarse powder will go further and discharged from its output. Use different hole size screen to get different output size, there are extra high pressure device to blow in high pressure air into the chamber to speed up screening and lower the working temperature too. Easy operation, high output and efficiency.
| | | |
| --- | --- | --- |
| Model | 300 | 500 |
| Handling capacity (kg / h) | 400-1000 | 600 to 1200 |
| Spindle speed (rev / min) | 760 | 600 |
| Sifting mesh (mesh) | 15 to 100 | 15 to 100 |
| Motor Power (kW) | 15 +3 +3 +1.1 | 22 +3 +3 +3 |
| Weight (tons) | 1.1 | 1.6 |
| Dimensions (m) | 3.2 × 2.2 × 2.8 | 3.5 × 2.3 × 2.8 |