Waste tire rubber powder prod...
waste rubber recycling and pro...
Add:Western road Industrial clusters ChangJiang Town JiangYin city JiangSu province
Tel:0086-510-86338003 Fax:0086-510-86003117
Contact:Mr.Gu Hong Moblie:0086-013601516395
E-mail:sales@nezs.cn
Web site:http://www.luntaijixie.com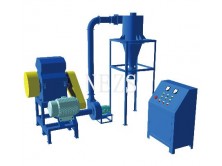 CSJ-B Rubber Coarse Crusher
Introduction
The machine has such features as high output, low working temperature, no screen jamming, continuous operation. It is mainly composed of motor, crushing chamber, screen device, draught fan, conveying device, cyclone and control cabinet, etc.
Structure and principle
The machine adopts hard alloy or wear-proof steel blades, can crush various kind hard materials coarsely. The crushed materials are conveyed and discharged through cyclone under strong air blowing force. The machine is equipped with two cooling systems, which can control the crushing temperature, increase output and ensure good crushing quality.
| | | |
| --- | --- | --- |
| Model | 400A | 500A |
| Production capacity (kg / h) | 60 to 800 | 100 to 1000 |
| Spindle speed (rev / min) | 600 | 600 |
| Feed size (mm) | ≤ 200 × 30 | ≤ 250 × 30 |
| The expected size (mesh) | 2 to 20 | 2 to 20 |
| Motor Power (kW) | 15 | 22 |
| Weight (tons) | 0.9 | 1.1 |
| Dimensions (m) | 1.1 × 1 × 1.6 | 1.4 × 1.2 × 1.6 |