Waste tire rubber powder prod...
waste rubber recycling and pro...
Add:Western road Industrial clusters ChangJiang Town JiangYin city JiangSu province
Tel:0086-510-86338003 Fax:0086-510-86003117
Contact:Mr.Gu Hong Moblie:0086-013601516395
E-mail:sales@nezs.cn
Web site:http://www.luntaijixie.com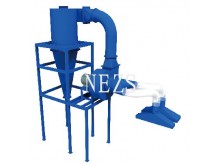 CQF Coarse Fiber Separator
Introduction
CQF Coarse Fiber Separator is an ideal separating equipment for the coarse fiber mixed in the rubber granules from the rubber chip grinder to improve the purity of the rubber for the next rubber powder milling process. It mainly consists of Sucking Mouth, Air Volume Adjusting Door, Flexible Pipes, Draught Fan, Body Frame, Cyclone, etc.
Structure and Principle
◆High Separating Effects, can separate over 96% fiber;
◆Adjustable Height
◆Equipped with two different sizes of Suck Mouths, with air volume adjusting device
◆Adopts improved model of Draught fan, strong sucking force, no jamming. The cyclone can separate fiber effectively to avoid pollution and increase production capacity.
| | |
| --- | --- |
| Model | 75 |
| Handling capacity (kg / h) | 400 to 800 |
| Materials handling | Rubber, fiber |
| Motor Power (kW) | 7.5 |
| Sorting efficiency% | ≥ 96 |
| Outlet number (a) | 2 |
| Weight (tons) | 0.8 |